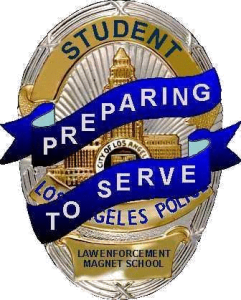 The Los Angeles Police Academy Magnet School curriculum goes beyond basic high school
course requirements, affording students specialized coursework, training, mentoring, work and
volunteer opportunities. The programs include instruction in:

 Communication skills, with emphasis on listening, reading, speaking, writing and
thinking as it relates to law enforcement
 Basic concepts of criminal law, principles of law enforcement, constitutional law, the
criminal justice system and other law related topics intertwined throughout all core
courses
 Health training, including mental and physical health
 Physical Training in accordance with LAPD standards
 Computer science, particularly programs which relate to law enforcement such a
Compstat and E Crime
 Community service, to develop good citizenship and ongoing community involvement

Another important aspect the Los Angeles Police Academy Magnet Programs is that they
simulate the LAPD's recruit academy in many facets. Students have to stand at attention when an
adult enters the room, address adults as "Ma'am" or "Sir," adhere to specific grooming
standards, and wear a uniform once a week for an officer-led inspection. There are also student
leadership, color guard, and drill team opportunities. Because these programs are "schools within
a school," the student can also participate in the host school's extra-curricular offerings.
Each Police Academy Magnet School has a full time LAPD officer assigned to the program who
teaches the physical training class, incorporating LAPD organizational information, criminal
justice lectures, guest speakers, and basic drilling into the curriculum. To further expose these
students to the many facets of police work, the students also go on field trips to LAPD's Bomb
Squad, Mounted Unit, LAPD Historical Museum, LAPD Crime Lab, and various training
facilities.

There are currently four Police Academy High Schools and two Jr Police Academy Middle
schools serving approximately 900 students annually within the Los Angeles Unified School
District. For more information on the specific LAPPAMS schools, please see the alphabetized
coordinator reference list below:
Sandy Alvarenga
LAPAMS High School Coordinator
San Pedro Police Academy Magnet
https://sites.google.com/lausd.net/sphs-police-academy-magnet/home
(310) 519-6500

Alise Cayen
LAPAMS High School Coordinator & LAPAMS Program Chair
Reseda High School Police Academy Magnet
https://resedapoliceacademymagnet.com/
(818) 758-3739

Paul Graber
LAPAMS High School Coordinator
James Monroe High School Police Academy Magnet
www. police.monroehs.org
(818) 830-4200

Robert Gonzalez
LAPAMS Middle School Coordinator
Luther Burbank Middle School Junior Police Academy Magnet
https://www.lbmsbears.com/magnet
(323) 340-4414

Florence Semerjian
LAPAMS Middle School Coordinator
Mulholland Junior Police Academy Magnet
https://www.mulhollandms.org/mjpa-program-description
(818) 609-2587

Brendan Wagner
LAPAMS High School Coordinator
Wilson High School Police Academy Magnet
https://www.ibwilsonmules.com/police-academy
(323) 276-1717